Teriyaki Chicken - Lean and Green
One of my favorite dishes, this teriyaki chicken is full of pungent flavors that make you question if you are really on a diet at all.
Ingredients
6oz skinless boneless chicken breasts
½ cup asparagus
½ cup cauliflower
1 tsp brandy
½ wasabi or horseradish sauce
½ tsp fresh ginger, chopped
2 tbsp low sodium soy sauce
½ cup onion, chopped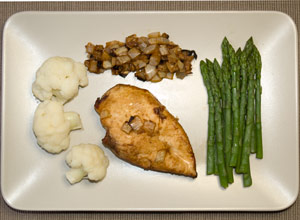 Instructions
Mix ingredients of marinade and place in a ziplock bag with the chicken to marinade in the fridge. Ideally leave overnight or a few hours if in a hurry.
Pour chicken, onions and marinade onto aluminum foil and place under a hot grill for 4 minutes on each side. Check the juices run clear when cut open.
Serve with boiled asparagus and cauliflower.
This recipe has been designed based on the principles recommended for the medifast diet, however it is in no way endorsed by Medifast Inc and this website has no direct association with Medifast Inc.