Orange Infused Haddock - Lean and Green
Haddock is a delicately flavored fish; when mixed with the strong flavors of orange and mustard it really comes alive.
Ingredients
7 oz boneless haddock
Peel of half an orange
1 tsp whole grain mustard
1 tbsp orange juice
½ cup mung bean sprouts
½ cup green beans
1 tsp olive oil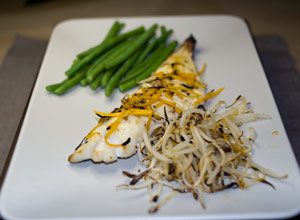 Instructions
Use a lemon zester to take strings of peel from the orange. If you don't own one then use a normal peeler and cut the peel into thin strips on a board.
Mix peel, mustard and orange juice in a bowl and use to marinade haddock.
Remove the orange peel. Grill the haddock skin side up first for 5 minutes then turn over add back the peel, add a little olive and cook for a further 5 minutes. 4 minutes before cooking is finished add the bean sprouts to the grill tray to gently heat them.
Serve with boiled green beans. Do not eat the haddock skin or orange peel.
This recipe has been designed based on the principles recommended for the medifast diet, however it is in no way endorsed by Medifast Inc and this website has no direct association with Medifast Inc.