Lemon and Fennel Cod - Lean and Green
Fennel is an under used vegetable but has a fantastically unique flavor that melds beautifully with the juice from the cod to produce a warming and refreshing broth.
Ingredients
7oz cod
1 cup fennel, thinly sliced (approx ½ bulb)
¼ cup scallions, sliced
¼ cup parsley, chopped
1 cup water
1 tsp bouillon
1 tbsp lemon juice
1 tsp olive oil
Salt & pepper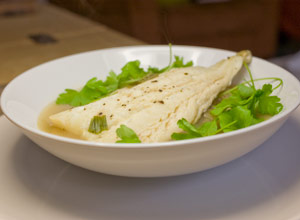 Instructions
Pre-heat oven to 400F/205C.
Thinly slice the fennel, discarding the tops and core.
Heat a skillet and add the olive oil. Cook the fennel for 5 minutes adding a little salt.
Mix bouillon, lemon juice and water and add to pan along with the cod. Bring the water to the boil then transfer everything to an oven proof dish. Cover and place in oven for 15 minutes.
Uncover then cook for a further 2-3 minutes.
Serve garnished with parsley.
This recipe has been designed based on the principles recommended for the medifast diet, however it is in no way endorsed by Medifast Inc and this website has no direct association with Medifast Inc.