Chinese Style Shrimps - Lean and Green
These Chinese Style Shrimps look and taste fabulous.
Ingredients
7oz shelled shrimps
1 tsp chopped fresh ginger
1 clove chopped garlic
½ cup chopped zucchini
½ small onion, chopped
½ cup red pepper
1 tsp sesame seeds
¼ teaspoon dried chili flakes
1 tsp bouillon
1/3 cup water
½ tsp wine vinegar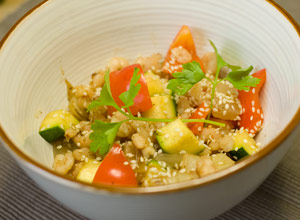 Instructions
Mix garlic, ginger with shrimps and leave for at least 20 minutes.
Mix bouillon, chili flakes and water in a bowl.
Heat skillet and spray with 1 cal spray. Cook shrimps, garlic and ginger until shrimps just change color. Less that 1 minute in a hot pan. Transfer to plate.
Rinse skillet.
Spray skillet with 1 cal and cook onion for 1 minute, then add zucchini and pepper and cook for a further 1 minute.
Add the shrimps and heat through completely.
Serve decorated with sesame seeds.
This recipe has been designed based on the principles recommended for the medifast diet, however it is in no way endorsed by Medifast Inc and this website has no direct association with Medifast Inc.