Boca Burger Salad - Vegetarian Lean and Green
A healthly vegetarian lean and green option, that is perfect for the Medifast diet. Can be enjoyed hot or eaten as a convienient lean and green meal on the move.
Ingredients
2 boca burgers (or equivalent: Morning Star Farms burgers, Garden burger, Quorn burgers)
½ cup watercress
1 cup romaine lettuce
4 cherry tomatoes
4 slices cucumber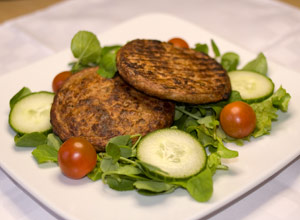 Instructions
Grill the burgers as per the packet instructions.
Wash the salad and serve with the hot burgers.
This recipe has been designed based on the principles recommended for the medifast diet, however it is in no way endorsed by Medifast Inc and this website has no direct association with Medifast Inc.