Cumin Pork - Lean and Green Recipe
Pork is often perceived as a fatty meat, but in fact these lean cuts are perfect for a delicious lean and green meal.
Ingredients
6oz pork tenderloin
1 tbsp garlic, crushed
1 tsp cumin seeds
¼ tsp black pepper
salt
1 cup brocolli
½ cup zucchini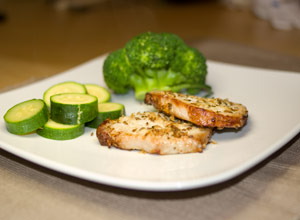 Instructions
Trim any fat from the pork.
Crush garlic and mix with cumin, pepper and a little salt. Spread mixture over pork and allow flavors to infuse overnight.
Grill pork until is starts to go brown (approximately 8 minutes per side).
This recipe has been designed based on the principles recommended for the Medifast diet, however it is in no way endorsed by Medifast Inc and this website has no direct association with Medifast Inc.